Nobody is born knowing how to be an entrepreneur
As Keith Cunningham, world renowned business expert, says, "Nobody is born knowing how to be an entrepreneur". Like anything else, it's a skill. It's also not a skill you learn one time. It takes practice, ongoing learning, evolving, and professional (and personal) growth. A successful entrepreneur understands that building a business or launching a dream requires ongoing learning as they move through cycles of incompetency to competency, over and over again, as each new skill is mastered… And that's why this course exists! Lisa wants to be part of your "business mastery" journey.
The Business of Therapy™ is a 2.5 day course custom designed for therapists, coaches, helpers and healers like yourself, who are deeply committed to making an impact and want to be of greater service – whether it's one-on-one in private practice, launching a product or program, or running a company. Elevate your entrepreneurial dream to new heights! This course sold out last year and is expected to sell out quickly this year!
Join Lisa on the journey to discover what it means to be an entrepreneur!
YOUR BUSINESS DREAMS ARE LIKE AN AIRPLANE AND YOU'RE THE PILOT
But what if you have a FEAR of flying?
This is exactly what happens to so many entrepreneurs - they have a vision or a dream about a business idea, but they are afraid to fly!
Why? Because no one taught them about the psychology of entrepreneurship. And that is especially true for us in helping professions. (When was the last time you were offered support in developing your business? … Right?!)
We weren't taught how to manage financial risks, read a profit and loss statement, or how to value our services. In fact, many of us have fallen into the false premise that as helping professionals, we're not allowed to be financially successful and be of service to others at the same time.
The reality is when you feel inspired in your work, you become even more valuable to your community and the world. You're able to help MORE people and provide BETTER services.
Basically, as you grow, you can put more people on your plane. And become more confident and capable as the pilot.
And Lisa would like to help you with getting your business dreams off the ground (if you're just starting out), or take your current, successful business and help it soar even higher!
THIS COURSE IS FOR YOU, IF YOU:
Have a business idea and don't know where to start.

Have a successful business and want to take it to the next level.

Have launched a dream and can't seem to get traction.

Feel overwhelmed by the many to-dos and responsibilities of your business.

Feel alone, confused and filled with self doubt as you think about building and growing your dream.

Keep finding yourself in-debt and/or not able to grow your finances.

Keep finding that your fears and limiting beliefs are stopping your growth.

Want to become more efficient with the business you have (no matter the size of your business) so that you can work more ON your business vision instead of always in the business.
"If you want a business training that is a complete package of personal work and business knowledge, then look no further than Lisa Dion's Business of Therapy course!"
- Bianca Kisselburg
YOU WILL LEARN HOW TO:
Discover what is truly important to you and how to create a congruent vision

Think and problem solve like an entrepreneur

Navigate the "feedback systems" that arise in business creation

Create a strategic plan, set goals and manage time horizons

Identify and shift your money psychology

Determine your fees and even raise your rates!

Use the chaos in your business to your advantage

Work with rejection and negative feedback

Tackle your fears and limiting beliefs that keep you stuck

Take calculated business risks and create a Plan B for economic and market downturns

Identify the developmental stages of a business/dream

Build an accountability team to keep you focused

Identify your target market and unique message

Be a leader and run a company or practice

And so much more!
JOIN US IN-PERSON AT THE MOST BEAUTIFUL ROOM IN DENVER (OR LIVE VIRTUALLY)
Located within the former Colorado National Bank building, the Renaissance Denver Downtown City Center is housed in one of Colorado's most gorgeous and historic buildings, with a lobby that The Denver Post coined the most beautiful room in Denver. Located in the heart of Denver's financial district, steps from the 16th Street Mall and close to Coors Field and Pepsi Center. Rooms are limited at a special rate of $232 - book yours today before they sell out!
HOW IS THIS COURSE DIFFERENT THAN OTHER BUSINESS COURSES?
Interpersonal neurobiology meets business! Yes, you will walk away from this course with greater confidence, clarified ideas and a plan in place, but you will also learn how to work with your psychology and physiology. Many business courses focus on the "how to", but knowing the steps isn't enough - you also have to know how to work with your thoughts and emotional dysregulation to keep you steady in the inevitable storms. Start your journey with this collection of

FREE business related video lessons

.
Your registration for the in-person course in Denver, Colorado includes:
* 2.5 days of learning about how to get clarity on your vision and create realistic plans to achieve your goals. This course will be offered live in Denver, Colorado at the Renaissance Denver Downtown City Center (which was actually a former bank and has been called "the most beautiful room in Denver"!)
* Lunch on Day 1 and Day 2 is included. During our working lunch, you will have focused time with Lisa and other participants to brainstorm your vision and goals. And, you'll save money on Uber's and avoid the stress of rushing back and forth during lunch.
* Afternoon Snacks on Day 1 and Day 2 are included to keep the momentum going. For lunch and snacks, we will have GF/DF and vegan options available.
* A collection of inspiring success stories! We have examples from prior students that can tell you how these tools changed the trajectory of their business. Start with Jackie Flynn's story here or see what people are talking about in the Business of Therapy Facebook group.
* New this year: A printed workbook for in-person participants to keep all your plans and goals.
* Or for everyone: a fillable digital workbook for those that prefer to keep everything paperless.
MASTER THE BUSINESS SKILLS & MINDSET SO YOU CAN BUILD YOUR ENTREPRENEURIAL DREAM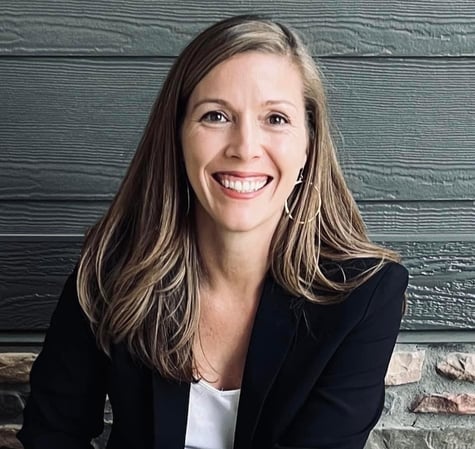 WHO TEACHES THE BUSINESS OF THERAPY?
Lisa Dion, LPC, RPT-S, is the founder and President of the Synergetic Play Therapy Institute, co-founder of the Synergetic Education Institute and the creator of Synergetic Play Therapy. Lisa built her first of six businesses in 2003 and has been building and creating ever since. She has written books, launched a successful podcast, is an international teacher and speaker, business coach to organizations and individuals worldwide, and she's transitioned the Synergetic Play Therapy Institute from a local business to an international organization.
WHAT PAST PARTICIPANTS SAID
"I think there are assumptions that taking a business course means I have a big idea, but actually you don't need a big idea to take this course. This course helps you to have clarity of your goals big or small, and helps you plan where you want to go based on your values but most importantly teaches you how to move through your fears, with tools you can continue to use after it is over!"
- Rose LaPiere
"I have never attended any training (and I do lots) where full days have flown by and each day I was sooo eager to get up and start the next full day. Lisa is such a great teacher and makes things interesting, easy to understand and makes people believe in themselves and their ability to work towards their goals."
"I'm still processing all of that wonderful information! Lisa, the way you presented this information to us was perfect! You spoke to my soul and explained things in the way I needed to hear them. I am forever changed and so honored to have shared that space with you and so many creative powerhouses! Thank you!!"
"Lisa's ability to integrate and teach authenticity in entrepreneurship is uncanny and truly unique; you can't walk away from the course without saying Wow!

"
DON'T WAIT! REGISTER TODAY AND LET'S GROW TOGETHER!
* Early Bird Deadline is September 1st / General Registration Deadline is October 10th *